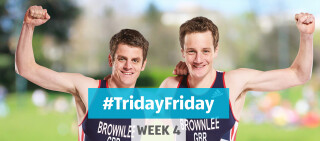 What will you try this summer?
There are so many amazing things to make, do and try, so let's hope this summer is a long one. This week, Alistair is challenging Jonny to make the best summer dessert. Will the winner be Jonny's Strawberries and cream Eton Mess or Alistair's delicious Sweet Strawberry Sundae? It's also a great time to try our fabulous berry sauce recipe or host your own Wimbledon bake sale. Plenty to go with!
Wimbledon Ladies' Singles Final: 2pm Saturday 15 July
Wimbledon Men's Singles Final: 2pm Sunday 16 July

Jonny's Strawberries and Cream Eton Mess
VS Alistair's Sweet Strawberry Sundae
Jonny likes to serve indulgent Strawberries and Cream Eton Mess, while Alistair loves a fruity Sweet Strawberry Sundae. They're both ace, but who's your winner?

Why not host your own Wimbledon bake sale using our amazing recipes?

Host a Wimbledon bake sale

Wimbledon's a great time to host your own bake off in aid of the Teenage Cancer Trust. Why not try our amazing Wimbledon themed bakes and find more information about how to work with the TCT here. Good luck and send us your photos!

JONNY'S BERRY CLEVER SAUCE
If you've got leftover strawberries or raspberries that have gone past their best, don't throw them away. Instead, turn them into a deliciously sweet dessert sauce. Purée in a blender, or for even more flavour, place in a heatproof bowl, sprinkle with a little sugar, cover with clingfilm and heat gently over a saucepan until syrupy. Use on pancakes, ice cream, cakes or stir into plain yogurt. That's one tasty topping for no extra money!
Are you loving our #TridayFriday challenges?
If so – come find us on your favourite social media site and join the fun!
You can get all our #TridayFriday recipes, activities and challenges here every week.