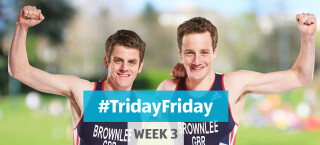 Time to get back in the saddle?
Cycling is a great way to stay fit and active. Just look at the Brownlees! So this week's challenge to enjoy cycling with the family, will help you make the most of the good summer weather. Plus there's a tasty French Apple Tart recipe and a contest to choose the best summer tipple. Is it French or British? Try them and see.

Professional cycling demands an astonishing amount of energy and one popular way teams refuel their riders is with delicious French Apple Tarts. Served with cinnamon and creamed rice pudding, it sets their riders up for the next stage. You may not be a pro, but that's no reason not to enjoy this fabulously tasty treat by following our simple recipe.

Have you got your cycling essentials? View this week's Specialbuys for all the high tech gear you'll need before hitting the road this summer.

Pedal Power
To help you get out and about this summer, we've got some amazing cycling Specialbuys from performance cycling gear to essential accessories like bike pumps. For easy, family friendly routes near you, check out Britain's National Cycle Network.

ENGLAND OR FRANCE? WHO'S THE WINNER?
Who'll be the winner when the brothers go head to head with their refreshing summer tipples? Jonny's flying the flag for our amazing Austin's Summer Punch – a real thirst quencher in the heat. But Alistair reckons Veuve Monsigny Champagne Brut is the one you'll be talking about. It's an award winner and is one to impress your guests this summer.
So who's the winner?
Are you loving our #TridayFriday challenges?
If so – come find us on your favourite social media site and join the fun!
You can get all our #TridayFriday recipes, activities and challenges here every week.