These crispy tuna treats are a simple and delicious dinner option.
Tuna & Sweetcorn Fish Balls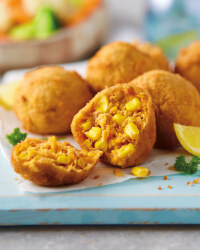 Recipe Information
Ingredients
2 x 160g tins Tuna
500g Sweet Potatoes
326g tin Sweetcorn
6 slices White Bread
60g The Pantry Plain Flour
2 large Eggs
1 x 1kg pack Mixed Vegetables
Sea Salt and Black Pepper
British Rapeseed Oil, for frying
Method
Peel and chop the sweet potato into chunks. Boil in some slightly salted boiling water for about 15 minutes until tender, then drain and mash.
Drain the tuna and sweetcorn and put them in a bowl along with the warm, mashed sweet potato.
Season with some black pepper and mix well.
Pre-heat the oven to 200oC/400oF/Gas Mark 6.
Make some breadcrumbs with the sliced bread.
Put the breadcrumbs in one bowl and the flour in another.
Whisk the eggs in a bowl.
With a dessert spoon, divide the tuna mixture into 12 balls. Dip them in the flour first, then the egg and then the breadcrumbs.
Fry them in batches in some oil until golden all over.
Transfer to the oven to keep warm.
Meanwhile, cook the vegetables in some slightly salted boiling water for about 7-9 minutes.
Drain and serve the vegetables alongside the fish balls.