Looking for a nutritious snack for lunch? Try this quick and easy Tuna Scotch Egg.
Tuna Scotch Egg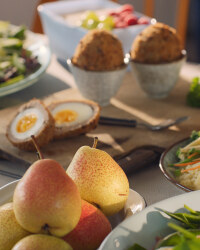 Recipe Information
Ingredients
1/2 loaf Specially Selected multigrain batch loaf
9 mixed size Merevale Organic eggs
3 tins Ocean Rise tuna chunks (in spring water)
Method
Bring a large pan of water to the boil, place six of the eggs into the water and boil for 6 minutes.
Place the eggs into a bowl of cold water to cool.
Place the bread into a food processor and blitz to a crumb.
Thoroughly drain the tuna and place into a mixing bowl along with 1 egg and a handful of breadcrumbs, season with a little salt and pepper and mix all together.
Place the remaining breadcrumbs into one bowl and crack the two remaining eggs into another bowl- whisk with a fork.
Peel the cooked eggs and roll them in the breadcrumbs.
Lay a square of cling film onto a work surface. Take a golf ball sized scoop of the tuna mix and place this in the centre of the cling film, flatten the mix to a thickness of 1cm.
Place a boiled egg into the centre of the mix, gather up the corners the cling film so it wraps the filling around the egg. Fill in any holes with extra mix if needed, then place the coated egg onto a plate. Repeat with remaining eggs.
Turn the tuna covered eggs over in the bowl of whisked egg, so it is completely coated. Then transfer to the breadcrumb mix, allowing any excess egg to drain off through your fingers.
Turn the egg over in the breadcrumbs until coated then place onto a baking tray.
Repeat with remaining eggs.
Deep fry at 180°C 1-2 minutes, until golden brown, or bake in a pre-heated oven at 195°C/180°C fan/gas mark 4 for 20 minutes- until golden brown.