Turkey and Quinoa Meatballs with Tomato & Courgette Sauce
Turkey and Quinoa Meatballs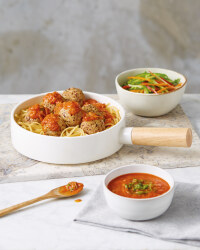 Recipe Information
Ingredients
500g Turkey Mince
60g Tri Coloured Quinoa
400g tin Chopped Tomatoes
1 Small Red Onion
2 Garlic Cloves
100ml Water
1 Vegetable Stock Cube
1 Small Courgette
2 tsp Paprika
30ml Olive Oil
Sea Salt and Black Pepper
Sunflower Oil to fry
Method
Cook the quinoa as instructed on the pack. Allow to cool and mix with the turkey mince, seasoning with salt and pepper.
Roll into 12 balls and put in the fridge to firm up while you make the sauce.
Peel the red onion and chop finely. Then peel and mince the garlic. Add them both to a medium saucepan and sauté in the olive oil on low for 5 minutes.
Add the tinned tomatoes, paprika and water to the saucepan, then crumble over the stock cube. Gently bring to the boil, stir well and cook on low for a further 20 minutes. Liquidise in a food processor and return to the pan.
Grate the courgette and add to the pan, cooking for 5 minutes. Keep to one side while you cook the meatballs.
Remove the meatballs from the fridge and sauté in some sunflower oil for 15 minutes, turning them as you cook. Drain the meatballs and serve them with the tomato sauce.
Great with pasta or sweet potato mash.