Rustic pot roast made with a seasoned turkey crown, fresh veg medley and mustard.
Turkey Spring Pot Roast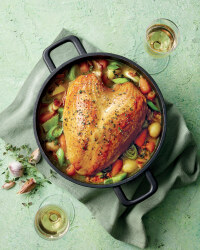 Recipe Information
Ingredients
1 x Small Turkey Crown – approx. 1.2kg
80g pack Smoked Streaky Bacon
2 x cloves Garlic
4 x sticks Celery
300g Chantenay Carrots
15 x Small New Potatoes
3 x Leeks
1 x Lemon
3 x sprigs fresh Thyme
500ml Water
2 x Chicken Stock Cubes
2 heaped tsp English Mustard
Black Pepper
30ml Sunflower Oil
Method
Pre-heat the oven to 200°C/Gas Mark 6.
Trim the leeks and cut into chunks – wash well and drain. Wipe the celery, carrots and potatoes – chop into chunks, no need to peel. Chop the bacon into strips.
Heat the oil in a large heatproof casserole dish and sauté the bacon until crisp. Remove with a slotted spoon. Add the vegetables and toss in the oil, then sauté for a few minutes. Add the bacon back to the dish and mix well. Quarter the lemon and add to the casserole dish, along with the thyme. Put the turkey crown on top of the vegetables and put in the oven.
Put the water into a pan and crumble over the stock cubes (for a more indulgent dish, use half water and half wine). Bring to the boil. Peel and mince the garlic and add to the stock, along with the mustard and season with some black pepper. Remove turkey from the oven, pour over the stock and cover the dish. Cook for 90 minutes, then take off the lid and cook for a further 30 minutes. Discard the lemon and the thyme and serve.