Green beans in streaky bacon, seasoned with paprika and cooked in garlic infused oil.
Twigs in Blankets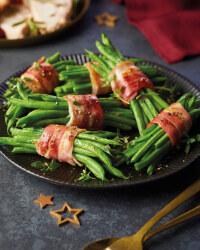 Recipe Information
Ingredients
250g Green Beans, trimmed
6 Rashers Specially Selected Dry Cured Unsmoked Streaky Bacon
25ml Garlic Infused Oil
1 tsp Paprika
Method
Pre-heat the oven to 200°C/Gas Mark 6.
Blanch the beans with some boiling water – drain and pat dry and divide into 6 piles.
Wrap a rasher of bacon around the middle of each bundle.
Place onto a baking tray and drizzle over the garlic oil.
Roast in the oven for 15 minutes.
Serve, sprinkled with the paprika.