The ultimate BBQ meat cooking guide featuring beef burgers, pork steaks and lamb kebabs.
Ultimate BBQ Cooking Guide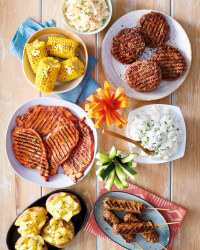 Recipe Information
Ingredients
Beef Burgers
Chinese Pork Steaks
Lamb Kebabs
Skewers
Jacket Potatoes
Corn on the Cob
Carrots
Cucumber
Coleslaw
Potato Salad
Brioche Burger Buns
Method
Begin by heating the BBQ to a medium-high heat.
Wash the jacket potatoes, wrap in tin foil and place on the BBQ (toward the edge so they get an indirect heat) and cook for 40-50 minutes, depending on size, until cooked through.
Wash the corn on the cob and wrap in a double layer of tin foil and add to the BBQ to cook for 30-40 minutes.
While they are cooking slice the cucumber and carrots into sticks and refrigerate until ready to serve.
Pre-heat the grill and cook the burgers for 18-20 minutes.
After a couple of minutes cooking add the lamb kebabs to the grill (to cook for 14-16 minutes).
Finally, add the pork steaks to the grill and cook for 10-12 minutes.
When the potatoes and corn are cooked add the meat to the BBQ and cook for 5 more minutes, turning frequently to prevent burning.
Serve the BBQ'd meat, jacket potatoes and corn on the cob along with the potato salad, coleslaw, bread buns and prepared vegetables.