Ultimate Summer Burger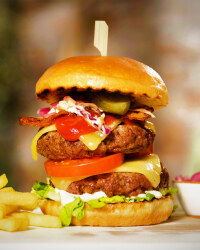 Recipe Information
Ingredients
For the Burger:
500g Beef Mince
1/2 Medium White Onion
15g Dijon Mustard
40g Tomato Ketchup
Pinch Salt
For the Slaw:
1 Red Onion
1 Carrot
1/4 Sweetheart or White Cabbage
1/4 Red Cabbage
50g Mayonnaise, Greek Yoghurt or Crème Fraiche
Black Pepper
For the Pickled Red Onion:
2 Red Onions
100ml Water
100ml Cider Vinegar
50g Sugar
For the Toppings:
Mature Cheddar Cheese
4 Bacon Rashers
2 Tomatoes
1 Gem Lettuce
4 Brioche Buns
Mayonnaise
Ketchup
Method
Finely dice the white onion and gently sauté in a little oil until softened (5 minutes) and allow to cool. In a bowl mix the mince, mustard, ketchup, cooked onions and salt.
Form the mix into four even balls and pat down to create the burgers.
Make the slaw by finely shredding the cabbage, slicing the red onion and grating the carrot. Mix with the mayonnaise and season to taste.
For the pickled onions bring the water, vinegar and sugar to the boil and dissolve the sugar. Take off the heat and add the sliced red onion. Stir the onion a few times to ensure it is submerged.
Grill the bacon on a medium heat for approximately 10 minutes or until cooked through.
While the bacon is grilling, fry the burgers over a medium heat, turning a few times until cooked through. This should be around 8 minutes. They will caramelise quickly as there is ketchup in the mix.
Once cooked, place the sliced cheddar on each burger and allow to melt. Then, grill the buns.
Build the burgers with the mayonnaise, lettuce, slaw, bacon, tomatoes, pickled red onion and ketchup.