Easy bake Unicorn Blondies made with vanilla, almond and sprinkles for extra magic.
Unicorn Blondies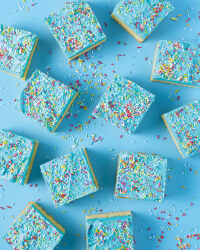 Recipe Information
Ingredients
250g Self Raising Flour
80g Caster Sugar
130g Light Brown Soft Sugar
130g Perfect for Cakes Spread
2 large Eggs
1 tsp Vanilla Essence
1 tsp Almond Essence
For the frosting
600g Icing Sugar
300g Unsalted Butter at room temperature
1 tbsp Milk
1 tsp Vanilla Essence
1 tube Blue Gel Food Colouring
Sprinkles
Tin foil
Method
Pre-heat the oven to 180°C/Gas Mark 4.
Beat the cake spread with the sugars until light and fluffy, then add the eggs and the vanilla and almond essences and whisk.
Add the flour and whisk again.
Line the tin with some tin foil.
Pour the batter into a tin foil lined tin and bake for 25 minutes, then allow to cool in the tin.
For the icing, whisk the butter, milk, vanilla essence and icing sugar until fluffy then mix in the food colouring, a little at a time, to reach your desired colour.
Swirl the icing over the top of the cake, cut into 12 squares and top with sprinkles.