Magical unicorn doughnuts covered with icing sugar and sprinkles.
Unicorn Doughnut Cakes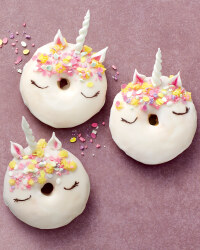 Recipe Information
Ingredients
For the rings
120g The Pantry Caster Sugar
120g Unsalted Butter
2 Eggs
170g The Pantry Self Raising Flour
3 tbsp Milk
For the icing
400g The Pantry Icing Sugar
2 tbsp The Pantry Easter Sprinkles
4 Specially Selected Meringue Drops in different colours, crushed
100g Aldi Easter Sicilian Lemon Frosting
150g The Pantry Ready Rolled Icing
100g Dark Chocolate, melted
5-6 tbsp Cold Water
2 x 4 Hole Yorkshire Pudding Trays (the wells should be about 9cm wide)
1ft length of tin foil
Method
Pre-heat the oven to 190°C/Fan 170°C/Gas Mark 5.
Make a tube out of the tin foil and then cut into 16 rings about 1 inch in length. Grease the Yorkshire pudding trays well. Place the tubes of tin foil in the centre of each well in the tins ( this will create your doughnut shaped hole).
Make the cake mix by placing the butter, sugar, eggs, flour and milk in a food processor and blitz until smooth (1-2 minutes). Pipe or carefully fill the tins around the tin foil to create 16 doughnut shaped cakes. Bake for 12-15 minutes until a cocktail stick comes out clean and leave to cool.
Roll out about 5-10g of the ready-made icing and twist into unicorn horn shape, repeat to make 16. Then shape the ready-made icing into 32 small ears.
Mix the icing sugar and water to create a thick icing. When cooled spoon the icing over the cakes then smooth. To create the crown, pipe on the lemon frosting and add the crushed meringue and sprinkles. Then, add the horn and ears. Finish off by piping sleeping eyes using the melted dark chocolate.