Homemade vegan kimchi fermented for 36 hours and served on toasted ciabatta.
Vegan Kimchi Cabbage Bruschetta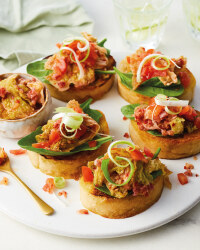 Recipe Information
Ingredients
For the Kimchi:
1 x Savoy Cabbage
40g Ground Rock Salt
45ml Soy Sauce
20g Caster Sugar
100ml Pineapple Juice
50g Fresh Ginger, peeled
1 x Small Bulb Garlic
1 x Small Red Onion
12g Chilli Flakes
1 x Lime, juiced
1 x Kilner-type Jar, sterilised
For the Bruschetta:
1 x 300g Specially Selected Bake at Home Ciabatta Loaf
40ml Garlic Infused Olive Oil
1 x Spring Onion
28 Baby Spinach Leaves
7 x Cherry Plum Tomatoes
Method
To make the Kimchi:
Keep your hands clean and dry while handling the cabbage.
Cut the cabbage into quarters lengthways, chop off the bottoms and discard, along with any tough outside leaves.
Put them into a large bowl and gently pull the leaves apart.
Sprinkle over the salt, making sure that it gets around all the leaves.
Allow to rest for 30 minutes, then gently move the leaves around with the salt.
Do this 4 more times with 30 minutes resting time in-between.
The cabbage will release a lot of liquid and shrink in size.
Peel the red onion and chop. Peel all the cloves of garlic from the bulb and chop. Chop the ginger.
Put the red onion, garlic, ginger, chilli flakes, pineapple juice, lime juice, soy sauce and caster sugar into a food processor and process until you have a thick sauce.
Wash the cabbage to remove the salt and pat dry with some paper towels.
Dip the leaves in the chilli sauce and put into the prepared jar.
Pour over any sauce that is left.
Seal and allow to ferment for at least 36 hours – out of the fridge.
Push the cabbage down in the jar with a clean spoon, to press out any bubbles – the bubbles are a good sign that the cabbage is fermenting.
Then you can transfer it to the fridge where it will keep for at least 3 weeks.
To make the Bruschetta:
Slice the loaf into 12 slices – no need to bake it first.
Fry them in a frying pan in the oil until slightly browned.
Thinly slice the spring onion. Finely dice the tomatoes.
Serve each slice topped with a couple of spinach leaves, a generous spoonful of kimchi and top with some diced tomatoes and slices of spring onion.