Loaded vegan chilli burritos rolled with avocado, rice and fresh salad.
Vegan Leftover Chilli Burritos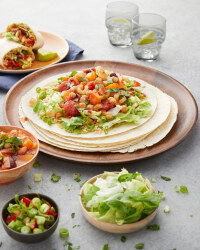 Recipe Information
Ingredients
4 x Wraps
400g leftover Vegan Chilli
250g pack of Wholegrain Rice
1 x Romaine Lettuce
2 x Spring Onions
1 x Salad Tomato
1 x Red Chilli
2 x Avocados
1 x Lime
½ tsp Salt and Pepper
Method
Heat the leftover chilli in a saucepan for 5-10 minutes until heated through.
Cook the rice as per the pack instructions.
Shred the romaine lettuce and then slice the spring onions, tomato and chilli and combine.
Juice the lime and pour half over the salad, then season with the salt and pepper.
Use a fork to mash the avocado and add the remaining lime juice.
Build the burritos by spreading the avocado on the wraps and then fill with the chilli, rice and salad.
Wrap and serve.