Vegan Potato Salad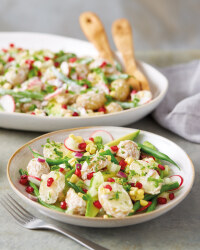 Recipe Information
Ingredients
500g Miniature New Potatoes
2 Fresh Corn on the Cob
220g Green Beans
100g Radish
2 Celery Sticks
2 Avocados
2 Small Red Onions
80g Pomegranate Seeds
400g tin Coconut Milk
25g Ground Almonds
Juice of 1 Lemon
Method
Carefully open the coconut milk without shaking and scoop off the cream, the water can be discarded. Add the ground almonds and the lemon juice and mix well, this is your dressing.
With a sharp knife carefully cut the corn kernels off the husks and discard the husks.
Cook the potatoes in some salted boiling water until just tender – drain and cut each potato in half.
Trim the beans and blanch in some boiling water for 5 minutes.
Next, prepare the vegetables. Wipe the celery and chop finely. Wipe the radish and slice thinly. Peel, halve and thinly slice the red onions. Halve the avocados, remove each stone, scoop out the flesh then chop.
Put all the vegetables into a large bowl, pour in the dressing and gently toss – top with the pomegranate seeds and serve.