Mouthwatering monster stack sandwich made with fried bread, vegetables and Thai flavours.
Vegan Thai Monster Stack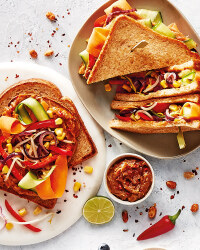 Recipe Information
Ingredients
50g Peanut Butter
½ Lime, juiced
1 tbsp Soy Sauce
2 tbsp Sweet Chilli Sauce
½ tsp Dried Red Chilli Flakes
3 tbsp Hot Water
½ Cucumber
½ Carrot
½ Red Chilli
1 tbsp Lime Juice
60g Bean Sprouts
½ Red Pepper
½ Red Onion
50g Sweetcorn
2 tsp Olive Oil
4 Slices Soft Wholemeal Bread
Method
Place the peanut butter, soy sauce, lime juice, sweet chilli sauce and chilli flakes into a bowl and mix well until combined. This could take a couple of minutes to produce a thick paste.
Add one tablespoon of hot water to form a spreadable consistency. Cover and leave to one side.
Use a peeler to create ribbons of the cucumber and carrot.
Heat 1 teaspoon of oil in a frying pan and fry the bean sprouts, red pepper, red onion, red chilli and sweetcorn for 5 minutes until cooked.
Brush 1 teaspoon of oil onto the bread and then toast them in a hot frying pan until golden.
To build your monster stack, top 2 of the pieces of toasted bread with the beansprout mixture. Next, add the ribbon salad and then finally spread the peanut butter chilli mixture onto the other 2 pieces of toast and sandwich together.
Serve immediately.