Save your vegetable peelings and enjoy these amazing homemade crisps as healthy snacks.
Vegetable Peel Crisps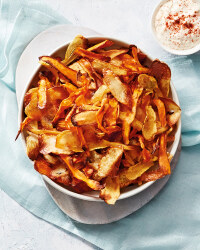 Recipe Information
Ingredients
500g Peelings from Root Vegetables
50ml Vegetable Oil
1 x tsp Garlic Granules
1 x tsp Paprika
Method
Preheat the oven to 200c/400f/gas 6
In a large bowl mix oil, with paprika and garlic.
Toss the vegetable peelings into the oil mix.
Remove the vegetable peelings from the bowl and lay them flat on a metal baking tray.
Roast in the oven for about 8 minutes until crisp.
Remove from the oven and allow to cool.
Serving Suggestion
Great served with a sour cream and chive dip