This light, fruity and delicious dessert is a delightful take on a classic trifle recipe. Plus it's alcohol free!
Walnut & Orange Trifle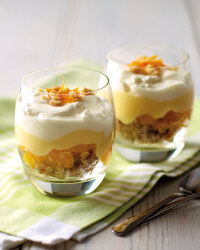 Recipe Information
Ingredients
4 tbsp Water
2 tbsp Caster Sugar
4 Oranges
292g Walnut Cake
500g carton Ready to Serve Custard
300ml Double Cream
1 tbsp Walnut Pieces to decorate
Method
In a small saucepan gently dissolve the sugar into the water.
Using a grater, remove the zest from one of the oranges and add to the pan.
Simmer the zest for 5 minutes then remove from the sugar syrup and allow to cool.
Cut the cake into slices to form chunky fingers.
Place in the base of a serving dish.
Peel the oranges then cut into segments using a sharp knife.
Cover the cake with orange segments.
Spread the custard evenly over the oranges.
Whip the cream and spoon over the custard.
Decorate with the reserved orange zest and sprinkle with walnut pieces.
Chill well before serving.