Bring the taste of holiday into your home with this refreshing cocktail, perfect for any summer occasion.
Watermelon Caipirinha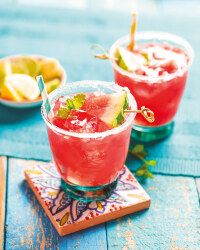 Recipe Information
Ingredients
400g Cubed Fresh Watermelon
140ml Cocobay White Coconut Rum
Juice of 1 Lime
Juice of 1 Lemon
Ice cubes
Method
Put the watermelon cubes into a bowl and, with a wooden spoon, smash them into a pulp.
Add the rum, lime and lemon juice and mix well.
Pour into a jug and add ice to serve.