A refreshing twist on a favourite summer fruit served with a tangy dip.
Watermelon Fries with Coconut & Lime Dip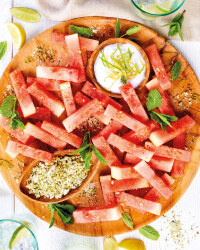 Recipe Information
Ingredients
1 Watermelon
400ml tin Full Fat Coconut Milk
Grated Rind and Juice of 3 Limes
Fresh Mint
For the Sugar:
2 Limes
1 Large Lemon
30g Caster Sugar
3g Fresh Mint
Method
Open the coconut milk carefully and scoop out the solid cream, retaining the coconut water.
Mix the coconut milk with the lime juice and rind. If it's too thick add some of the coconut water.
Slice the watermelon, then cut into 'chips'.
For the sugar finely grate the rind from the lemon and limes, then finely chop the mint and mix in with the caster sugar.
Serve the dip and sugar alongside the fries, with some fresh mint leaves and lime wedges.