This simple yet tasty cocktail can be made well ahead of time and served on the day. With Aldi's White Sangria you can use a range of fruit, allowing you to have fun coming up with different taste combinations, and can easily scale it up to share with large parties.
White Sangria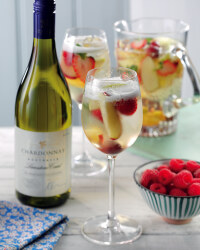 Recipe Information
Ingredients
1 x bottle Baron Amarillo Rioja
1 x Green Apple
1 x Red Apple
15 x Red or Green Grapes
1 x Peach or Nectarine
6 x Strawberries
1 x punnet Raspberries
Contevedo Cava or Soda Water to top
Method
Wipe the apples and core and slice thinly.
Remove the stone from the nectarine or peach and cut into slices.
Slice the strawberries.
Put all the fruit into a glass jug and pour over the wine.
Muddle the fruit and allow to marinate for an hour or so in the fridge.
Can be left overnight for a stronger, fruitier drink.
Pour into glasses and top with Cava or soda for a lighter drink.