Some things just work so well together… like raspberries, lime, lemon, mint, sparkling lemon and lime water and chilled Pinot Grigio.
White Wine Sangria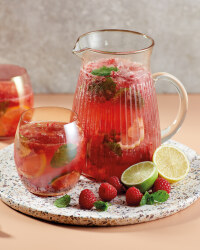 Recipe Information
Ingredients
500ml chilled Grapevine Pinot Grigio
150g Fresh Raspberries
1 Lime
1 Lemon
6g fresh Mint Leaves
Ice Cubes
250ml Sparkling Lemon & Lime Water
Method
Put the raspberries and white wine in a jug.
Cut the lemon and lime in half lengthways then slice.
Add these slices and the mint leaves to the jug.
With the end of a wooden spoon, mash everything in the jug.
Divide the mix between 4 tall glasses.
Add some ice cubes and top up with the sparkling water.