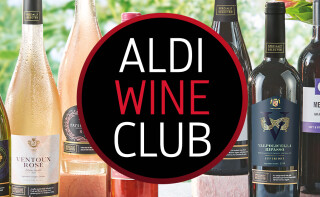 Love wine? Join the club!
Have you heard through the grapevine about our wine club? Know a thing or two about grapes yourself? And fancy becoming a wine expert? Well now you have the chance to have your say as we are after budding wine connoisseurs once again to join our new panel for 2021.
Become A Wine Expert

With two opportunities this year to become an expert, we will select 30 burgeoning wine experts on both occasions to join us on a tasting journey of Aldi's delicious wines.
Being part of the panel means that you'll be the first to hear about our award-winning wines, and we'll send you three delicious bottles from our range to try over a six week period. All we ask is that you taste and review the wines using the dedicated #AldiWineClub hashtag.
Along with the wines, to help you with your monthly reviews we'll also send you a selection of tasting notes to guide you on everything from the aroma and body to the taste.
Recruitment for the next Aldi Wine Club panel is now open until 17th May!
To apply, you need to follow the @AldiUK Twitter account, @aldiuk Instagram account and send an email to wineclub@aldi.co.uk with your name, Twitter account, Instagram handle, proof of age and 150 words explaining why you think we should select you to become part of the Aldi Wine Club.
Stay tuned for the second date if you're not successful this time around, set to launch this Autumn!
For terms and conditions, click here.

Buy 6 or more bottles and we'll deliver straight to your door!