Chopped carrots pickled in a winter spiced jar.
Winter Warming Carrot Pickle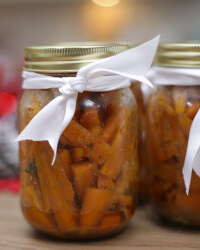 Recipe Information
Ingredients
Makes approx 3/4 kg
2kg of chantenay carrots
2.5 tbsp Stonemill ground cumin
2 tsp Stonemill crushed chillies
1/2 garlic bulb, peeled
2 tbsp Stonemill ground ginger
3 tbsp salt
100g The Pantry Soft Brown Sugar
250ml Bramwells vinegar
1/2 tbsp mustard
1/4 tsp Stonemill chilli powder
250ml vegetable oil
Method
Peel the carrots and chop each into long quarters at an angle.
Put to one side.
Add half the cumin and all the chilli to a food processor, with the chopped garlic, ginger and salt.
Blend to a thick paste.
Add the turmeric and sugar and blend to combine.
Slowly add the vinegar in a steady stream while the food processor is running until you have a wet paste.
Heat the oil in your widest pan over a medium heat and when hot, add the remaining cumin and the mustard.
After about 10 second add the chilli paste and chilli powder.
As soon as it begins to bubble, add the carrots and stir really well to coat them.
Turn the heat down to medium-low and leave the carrots to simmer for 15-20 minutes, until they are slightly softened but retain a good bite.
Leave to cool, then transfer to sterilised glass jars.
The finished pickle can be stored for up to two weeks.