A refreshing mix of vodka, peach schnapps, cranberry and lime. Woo Woo!
Woo Woo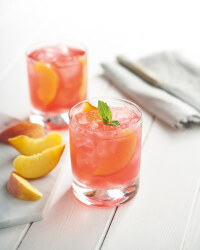 Recipe Information
Ingredients
40ml vodka
20ml peach schnapps
70ml cranberry juice
Dash of lime juice
Ice cubes
Peach slices
Method
Fill either a glass or cocktail shaker with ice, and then add the vodka, peach schnapps, cranberry juice and a few drops of lime juice.
Cover the top of the glass and shake really well to mix all the ingredients.
Strain into a tumbler and garnish with a few slices of peach.