Homemade Eton mess with fresh mango, berries and pomegranate seeds.
Yogurt Eton Mess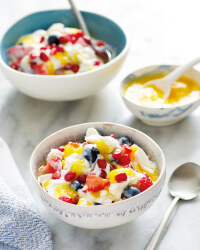 Recipe Information
Ingredients
2 large Egg Whites
100g Caster Sugar
Pinch of Salt
1 Mango (flesh removed and cut into chunks)
25g The Pantry Caster Sugar
1/2 Lime (juiced)
250g Cowbelle 0% Fat Free Natural Yoghurt
200g Strawberries (chopped)
100g Blueberries
80g Pomegranate Seeds
Method
Preheat the oven 100°C/Gas Mark 1
To make the meringue whisk the egg whites, with the pinch of salt, until they form soft peaks and then add the sugar one tablespoon at a time until the meringue is stiff and glossy.
Spread this meringue 1cm thick over a baking sheet, covered in grease proof paper and bake for about an hour until crisp and then leave to cool.
While the meringue cools make the mango purée by placing the mango, sugar and lime juice in a food processor and blend until smooth (2-3minutes).
Stir the strawberries and blueberries through the yoghurt and crumble in the meringue and mix.
Then stir through 3/4 the mango purée to make a swirled effect and then distribute between bowls.
Drizzle the remaining mango purée over the Eton mess and garnish with a sprinkling of pomegranate seeds.