Yorkshire puddings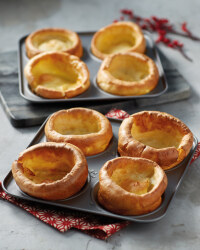 Recipe Information
Ingredients
150g Flour
275ml Milk
5 Eggs
Vegetable oil
Method
Preheat he oven to 200°c.
Place the yorkshire tray on a baking tray in the oven to heat up.
Mix the flour, milk and eggs and pass through a sieve to ensure there are no lumps.
Add half a cm of vegetable oil in to each tray indent and allow 5 minutes to heat up.
Pour the mix in to the tray, so each indent is just over half way filled.
Cook for roughly 15 minutes.