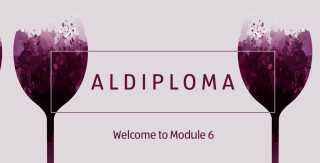 Module 6 – Other Wine Styles: Sparkling, Sweet and Fortified
You're (oh-so-nearly) a wine buff. The perfect excuse to pop open a bottle of bubbly and celebrate! Or maybe a drop of port? In this, the final module, designed by our resident wine expert and Mistress of Wine Sam Caporn, you will learn about all things sparkling, sweet and fortified. Cheers!
Best taught while sampling Wine Discovery Case 3
Take the Aldi wine tour – A journey through Aldi's most amazing wines
Think of this as a case-by-case education in wine. To enjoy the full Aldiploma experience we recommend you sip and savour a whole range of wonderful wines while you make your way through each module. Order your case today.
Join Aldi's wonderful world of wine
Here at Aldi we love great wine. You can meet our Mistress of Wine, Sam Caporn, discover our collection of classic wine icons and become the wine buff you always wanted to be with our Aldiploma.