Simple baked carrot mash recipe for Christmas dinner sides.
Baked Christmas Carrot Mash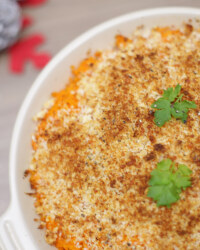 Recipe Information
Ingredients
1kg carrots
25g butter Cinammon
½ tsp ground ginger
50g stale bread
6 tbsp grated Specially Selected Parmigiano Reggiano
2 tbsp Olive oil
Method
Preheat the oven to 180°C.
Using a food processor blend the stale bread to form breadcrumbs.
Peel and slice the carrots, add to a large saucepan of water and bring to the boil for 12 minutes.
Once cooked, drain and return to the pan.
Add the butter, salt and pepper to taste, a pinch of cinnamon and the ground ginger.
Mash until smooth.
Spread the mash evenly in an ovenproof dish and drizzle with olive oil.
Mix together the breadcrumbs and parmesan cheese, sprinkle across the top of the mash.
Bake for 20 minutes or until the top is golden and crispy