Baked Salmon with Lemon, Parsley & Asparagus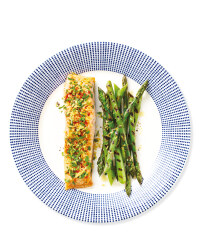 Recipe Information
Ingredients
1 x 240g Pack Specially Selected Salmon Fillets
1 x 100g Pack Specially Selected Asparagus Tips
1 x Lemon
3g Fresh Parsley
1 x flat tsp Paprika
Black Pepper
Method
Pre-heat the oven to 200°C/400°F/Gas Mark 6.
Put the salmon fillets on a baking sheet.
Zest half a lemon and drizzle over the salmon fillets – save the rest to juice later.
Sprinkle over the paprika and some black pepper.
Bake in the oven for 15 minutes.
Meanwhile, griddle the asparagus – cook for 3-4 minutes on each side until charred.
Chop the parsley and mix in the lemon zest.
Serve the salmon alongside the asparagus – drizzle over the remaining lemon juice and sprinkle with chopped parsley and zest.