Your new favourite dessert. Scrumptiously sweet Banana Toad in the Hole with chocolate and fudge.
Banoffee Toad in the Hole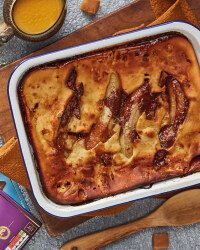 Recipe Information
Ingredients
200g Plain Flour
100g Caster Sugar
2 x flat tsp Baking Powder
325ml Semi Skimmed Milk
3 x Medium Eggs
1 x tsp Vanilla Essence
4 x Fairtrade Bananas
8 x Dairy Fudge, wrappers removed, approx. 60g
100g Moser Roth Fairtrade Milk Chocolate
35g Unsalted Butter
20ml Sunflower Oil
1 x 30x25cm roasting dish
Method
Pre-heat the oven to 180°C/Gas Mark 4.
Chop the fudge into small pieces and break up the chocolate.
Put the flour into a large bowl along with the caster sugar and baking powder then, using a whisk, mix them together.
Crack the eggs into another bowl, add the milk and vanilla essence and whisk well. Make a well in the middle of the flour and slowly beat in the milk mix until you have a smooth batter.
Then put the butter and the oil into the bottom of the baking tray and place into the oven to heat through.
Take the tray from the oven and place in the peeled bananas, pour the batter around them, sprinkle the fudge and chocolate over the top and bake in the oven for around 20 to 25 minutes until they are risen and set.
Serve hot with custard or cream.