A delicious homemade blackberry purée mixed with gin and cassis for a Christmas cheers
Blackberry Cassis Royale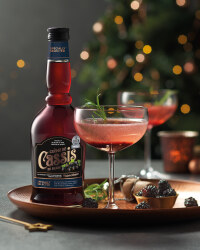 Recipe Information
Ingredients
125g fresh Blackberries
25g Caster Sugar
Juice x 1 Lemon
120ml Snow Globe Blackberry Gin Liqueur
120ml Crème De Cassis
Prosecco or Champagne
Rosemary
Method
First make the blackberry purée. Put the blackberries, sugar and the lemon juice into a small pan.
Gently cook the blackberries over a low heat until the sugar has melted and the berries start to go soft – approx. 5 minutes.
Purée the blackberries, then push them through a sieve to remove the seeds. Allow the purée to cool.
Then mix the purée with the gin and the cassis. Divide this between 4 coupe glasses, then carefully top up with the Prosecco or Champagne.
Garnish with some blackberries and a sprig of rosemary.