Bloody Mary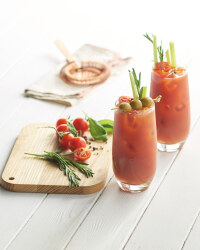 Recipe Information
Ingredients
100ml vodka
500ml tomato juice
1tbsp lemon juice
Worcestershire sauce
Tabasco sauce
Salt and pepper
Ice cubes
2 celery sticks and olives to garnish
Method
In a jug place the ice, measure out the vodka, tomato juice, lemon juice and pour it straight onto the ice.
Add 3 shakes of Worcestershire and tabasco sauce.
Next, add a pinch a salt and pepper, and then stir.
Keep stirring until the outside of the jug feels cold.
Finally, strain into 2 tall glasses, top up with ice.
Add a celery stick and olives to garnish.