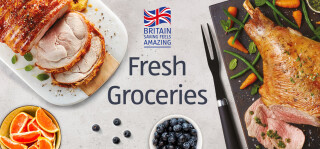 Amazing food made more affordable at Aldi
Every week, in our Super 6 and Fresh Weekly Offers, we select items from our award-winning fruit, veg, and meat ranges and make them even more affordable for families across Britain. Learn more about our offers here and head down to your local Aldi today to see what you can pick up.
Find the best of British in your local Aldi
From succulent beef roasts to delicious fresh fish, you'll find all your favourite British dishes in our amazing range, and it's all available at great value too. Visit your local Aldi today and check out our wide range of recipes for tasty ideas and inspirations.
Proud of our pork
Our Yorkshire-based pork farmers have an award-winning reputation for high quality products. As a leading supplier of pork, they stock Aldi stores with the finest range of fresh pork, bacon, gammon and sliced cooked meats every day. Learn more here.
Brilliant British Meal Ideas
Now that you've found all your fresh meat and veg in store, it's time to make them into amazing meals. Take your pick from these tasty recipes and impress your family tonight.