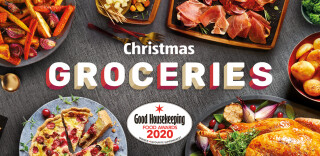 Award-winning quality everyone can enjoy
Christmas is a time for celebrating. And thanks to our award-winning range of delicious food and drink, you'll have everything you need for an unforgettable Christmas and New Year. What else would you expect from Good Housekeeping readers' Favourite Supermarket 2020 and Quality Foods' Christmas Retailer of the Year? Merry Christmas!
Our incredible Christmas collection
Let's fill your season with really wonderful Christmas drinks. Choose from Aldi's premium collection of wine, our incredible range of whiskies, liqueurs, rums and ports and a whole range of incredible gins. Order online and we'll deliver straight to your door.
Fresh in this season
Thanks to our famous Super 6 and Fresh Weekly Offers, we've made the festive season even more affordable for you and your family.
Like award-winning quality?
We work hard to bring you amazing quality food and drink, so we couldn't be prouder to be named Christmas Retailer of the Year 2020 at the Quality Food Awards as well as being shortlisted as Supermarket of the Year at the Retail Industry Awards 2020.