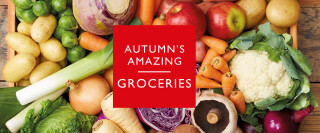 Celebrate the fresh season with Aldi
If you're looking for the best food that autumn brings, you only need to visit your local Aldi. It's full of fresh seasonal ingredients to inspire hearty meals and family feasts. And it's all made more affordable by our everyday value and the weekly deals our customers love, like the famous Super 6 and Fresh Weekly offers. Explore it all today.
Autumn made amazing
We love a cosy night in when it's dark outside and your favourite food is cooking in the oven. That's when the whole house comes together and enjoys a big family meal, like a mouthwatering roast or a fresh veggie dish made from scratch. Create these kinds of moments this autumn with our fantastic food and drink ranges.
Homemade meals to warm you up
Take advantage of the great value ingredients in your local Aldi and cook these amazing meals for your family. They're simple to make and taste fantastic. Try one tonight.