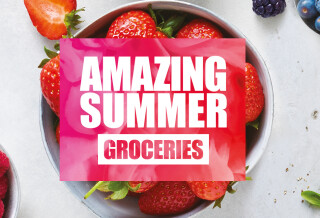 What's in store for summer?
You'll be amazed at what you can save when you shop at Aldi. From weekly Super 6 offers on fresh fruit and veg to surprisingly great prices on our award-winning Specially Selected foods. Not forgetting our sensational summer wines and celebrated Mamia baby range. We think saving feels amazing. So swap to Aldi and see what you could save today.
Amazing tastes. Amazing quality. Amazing prices.
We know our customers expect to find something amazing every day from GHI's Favourite Supermarket 2017, from award-winning washing powder and nappies, to wine, cheese and fresh British meats. Follow the stories of our swap and save families and be inspired to find your summer amazing today.
Make it a truly scrumptious summer
Celebrate the summer with some of our favourite fresh seasonal dishes. Like this delicious Orange, Pomegranate and Mozzarella Salad or some tasty Harissa Prawns. Discover more top summer recipes in our online hub.