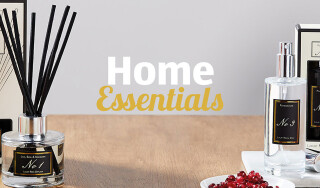 Luxury Scented Candles, Reed Diffusers And Gift Sets
Find our best-selling scented candles, reed diffusers and room sprays here, all in one place. They make the perfect gift for friends and family, giving every room fragrance with their incredible, long-lasting indulgent room scents.
Lime, Basil & Mandarin
Add a little zest to any room with this delightful fragrance. The unmistakable scent of limes is reminiscent of summer in the tropics, perfect for creating a luxuriously laid-back ambience.
Sophisticated scents at affordable prices
Our luxury range has stylish scents at amazing prices. The fragrances not only fill your home with incredible, long-lasting aromas but also make a perfect gift.
Choose your fragrance
Choose from our wonderful range of fragrances, Pomegranate, Freesia & Pear or Lime, Basil & Mandarin and enjoy at home by ordering online today.
Bundles of luxury
If you've already found the perfect scent for your luxury candles, you can get bundles of Pomegranate, or Lime, Basil & Mandarin or Blackberry & Bay. We also have mixed bundle Aldi scented candles for you to try our range.
Our elegantly scented Aldi Reed diffusers are available in Freesia & Pear, Pomegranate or Lime, Basil & Mandarin. Mixed scented bundles are also available.
Finally our Aldi room sprays are available to fill your home with fragrances of Lime, Basil & Mandarin, Pomegranate or Freesia & Pear. Like the rest of our range mixed bundles are available so you can add a spritz of each to every room.
Pomegranate
A rich, sweet, sensual fragrance that can transform your home whether you want to uplift, wind down or simply refresh. Give any room an air of sumptuous opulence.
Freesia & Pear
Enjoy the golden autumn freshness of ripe pears and bouquets of freesias with this beautifully luscious scent, ideal for refreshing your home and making any room feel truly luxurious.
Don't miss out!
Sign up to be the first to know about any new luxury range and homeware.