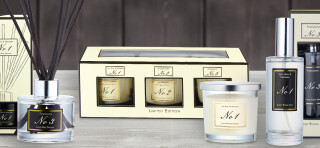 Aldi Luxury Fragranced Candles and Gift Sets
Our best-selling Aldi candles, Aldi diffusers and Aldi room sprays are now available to buy online. They make the perfect gift for friends and family and fill every room with their incredible, long-lasting home scents.
New Peony Blush
Now enjoy the scent of summer all year round, with our new Peony Blush range. Its light floral fragrance adds a delicate freshness to any room, either as a luxury candle or reed diffuser.
Bundles of luxury
Enjoy these luxurious gift sets and bundles of candles, diffusers and room sprays.
If you've already found the perfect scent for your luxury candles, you can get bundles of Pomegranate, or Lime, Basil & Mandarin or Blackberry & Bay. We also have mixed bundle Aldi scented candles for you to try our range.
Our elegantly scented Aldi Reed diffusers are available in Freesia & Pear, Pomegranate or Lime, Basil & Mandarin. Mixed scented bundles are also available.
Finally our Aldi room sprays are available to fill your home with fragrances of Lime, Basil & Mandarin, Pomegranate or Freesia & Pear. Like the rest of our range mixed bundles are available so you can add a spritz of each to every room.
Candles
Our Candles are perfect for centrepieces and gift sets and come in a range of luxurious fragrances such as our zesty Lime, Basil & Mandarin. Each candle is presented win a stylish glass container with metal lid.
Diffusers
Indulge your home with our luxury reed diffusers in a variety of scents such as sweet Pomegranate. Beautifully presented in a stylish glass bottle with 8 black rattan sticks, these exquisite fragrances last up to 2 months.
Room Sprays
Add an aroma of luxury to every room with these spectacular scented sprays. From fruits to flowers, the choice is yours. Their stylish design will suit your home décor and their fragrances will delight your senses.