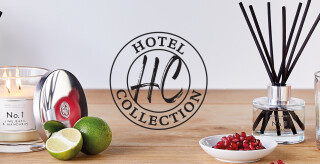 Luxury Scented Candles and Reed Diffusers
Make your home smell incredible with our best-selling Hotel Collection scented candles and reed diffusers. They give every room an incredible, long-lasting fragrance and make the perfect gift for friends and family.
Lime, Basil & Mandarin
Add a little zest to any room with this delightful fragrance. The unmistakable scent of limes is reminiscent of summer in the tropics, perfect for creating a luxuriously laid-back ambience.
Sophisticated scents at affordable prices
Why not wow your guests with one of the stylish scents from our premium Hotel Collection? Our seasonal range of room fragrances will fill your home with an incredible long-lasting aroma, and all at Aldi's amazing prices.
The perfect scent
Try our Pomegranate candle and reed diffuser for a luxurious, sweet, sensual fragrance with top notes of juicy red fruit, that can help you uplift, wind down or simply refresh any room. The perfect way to give your home an air of fresh opulence.
New season. New fragrances.
Looking for the perfect scent this season? Why not try the latest top fragrances in our exclusive Hotel Collection. Our elegantly scented Aldi luxury candles and reed diffusers are now available in Sweet Almond & Macaroon and Rose Noir.
Elegantly packaged in a stylish box, with an iridescent glass jar and gold lid, our new mixed and single scents are the ideal addition to your home.
Sweet Almond & Macaroon
Enjoy the warm, comforting ambience of soft almond and the sweet delight of creamy vanilla with a sprinkling of glacé cherries and coconut. The ideal aroma for chilly winter nights.
Rose Noir
Fill your home with this alluring and exotic classic. Rich damask rose with black pepper spices from the Orient and a hint of Turkish coffee, alongside the exotic essence of amber and patchouli. This fragrance sets the perfect seasonal ambiance.