An all-time favourite with a twist; this chocolate Guinness cake is the ultimate treat.
Chocolate Guinness Cake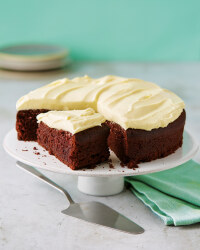 Recipe Information
Ingredients
For the cake
200g Soft Light Brown Sugar
250g Unsalted Butter (softened)
125g Dark Chocolate (melted)
2 Eggs
200ml Guinness
275g Self Raising Flour
1tsp Bicarbonate of Soda
For the icing
250g Cream Cheese
150g Icing Sugar
150g Unsalted Butter (softened)
1 tsp Vanilla Extract
Equipment: 23cm Spring form cake tin (greased and lined)
Method
Pre-heat oven to 180C/Gas Mark 4.
Soften the butter and use an electric mixer to beat together the butter and sugar until light and fluffy (around 5 minutes).
Melt the chocolate and then stir into the mixture.
Add in the eggs one at a time and beat until smooth.
Slowly add the Guinness and whisk until smooth.
Add the flour and bicarbonate of soda into the mix and carefully fold through.
Pour into the lined tin and bake for 45 minutes (check a cocktail stick comes out clean).
Leave the cake to cool while you make the icing.
Use an electric mixer to beat together the cream cheese and butter for a few minutes until light and fluffy then gradually add the icing sugar.
Finally mix the vanilla extract into the frosting and top the cooled cake with the frosting.