Cottage Pie with Cheese Mash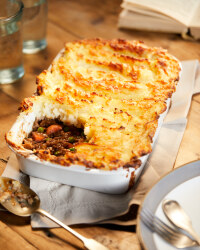 Recipe Information
Method
1. Heat a large frying pan and cook the minced beef with the carrots and onion for about 15-20 minutes until the mince has browned and the vegetables have softened.
2. Meanwhile, peel and roughly chop the potatoes, add to a pan of water, and then bring to the boil before simmering for 10-15 minutes until cooked.
3. Next add the Quixo, Worcestershire sauce and water to the mince filling, simmer until thickened then add the peas and remove from the heat.
4. Drain the potatoes and add the milk and butter, then mash until smooth then stir in half the cheese.
5. Pour the mince filling into an oven proof dish, cover with the mashed potato and then sprinkle over the remaining cheese.
6. Heat the oven to 220C/gas mark 7 and cook the cottage pie for 20-30 minutes until golden.