A classic homemade fruity Cranberry Sauce you'll want to make time and again.
Cranberry Sauce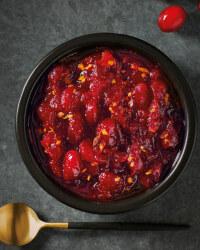 Recipe Information
Ingredients
250g fresh Cranberries
100ml Medium Dry White Wine
100g Caster Sugar
A few thin strips of Orange or Clementine Zest Port to taste (optional)
Method
Put the cranberries into a pan with the white wine and caster sugar and bring to the boil, stirring the strips of orange zest into the mixture.
Simmer gently for 10 minutes until the berries start to burst.
Add a dash of Port to taste.