Homemade dairy free coconut ice cream.
Dairy Free Coconut Ice Cream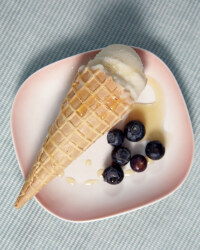 Recipe Information
Ingredients
2 x 400ml tins Full Fat Coconut Milk
120ml Specially Selected Maple Syrup
35g Plain Flour
35g Sunflower Spread
Pinch Salt
2 x tsps Vanilla Essence
Method
Open the tins of coconut milk.
Melt the sunflower spread in a medium size saucepan.
Add the flour and cook gently for a minute or two.
Slowly add the coconut milk, whisking as you go.
Heat the coconut milk until it thickens – don't allow to boil.
Add the vanilla essence, salt and allow to cool.
Put into the chilled freezer bowl and churn for about 25/30 mins.
Eat straight away or put into a container and freeze.