Chocolate heaven! With a coffee fix.
Dark Chocolate and Coffee Mud Cake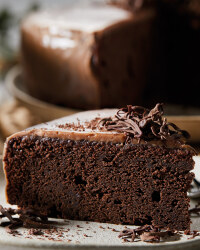 Recipe Information
Ingredients
200g 70% Moser Roth Fairtrade Coca Dark Chocolate Bar
250g Unsalted Butter
1 x tbsp Instant Coffee
250g Self Raising Flour
250g Caster Sugar
100ml Semi Skimmed Milk
40g Cocoa Powder
4 x Medium Eggs
1 x tsp Vanilla Essence
150ml Sour Cream
Icing
125g Moser Roth Fairtrade Milk Chocolate Bar
125g Moser Roth Fairtrade Madagascan Vanilla Chocolate
120ml Double Cream
25g Unsalted Butter
1 x 23cm spring form cake tin
Method
Pre-heat the oven to 170°C/Gas Mark 3.
Break up the dark chocolate and put into a heatproof bowl. Chop up the butter and add to the bowl, along with the coffee and the milk.
Place the bowl over a pan of simmering water, making sure the bottom of the bowl doesn't touch the water. Stir until smooth and melted.
Remove from the heat and add the caster sugar and the vanilla. Stir through and allow to cool. Next, sift the flour and the cocoa powder and add to the chocolate mix.
Whisk the eggs and beat into the batter a little at a time, then whisk in the sour cream.
Lightly grease the tin and pour in the batter. Bake in the oven for about 50 to 60 minutes.
Allow to cool in the tin, then put onto a cooling rack.