Tasty fakeaway doner kebabs with warm pittas and homemade tzatziki sauce.
Fakeaway Doner Kebabs with homemade Tzatziki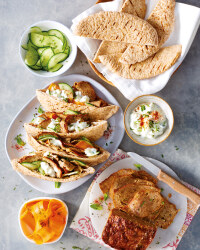 Recipe Information
Ingredients
1 x 475g pack lamb mince
1½ x tsp paprika
1½ x tsp garlic granules
1 x tsp dried oregano
1 ½ x tsp cumin
Tzatziki
200g yoghurt
½ Cucumber
4g Fresh mint
½ tsp garlic granules
To serve
4 x wholemeal pitta breads
1 x large carrot
½ cucumber
Sea salt and black pepper
Method
Mix the mince, paprika, cumin, garlic granules and oregano together in a bowl, season with some salt and pepper and mix well.
On a clean board, make the mince into a block – patting it down well so you don't have any air inside, and it's a solid oblong brick shape.
Either
cook on high in a slow cooker for 3 hours
Or
Preheat your oven to 200c/400f/Gas Mark 6
Wrap the mince completely in some tin foil and roast for 60mins.
To make the Tzatizki finely dice the cucumber. Finely chop the mint and mix with the yoghurt, garlic granules and the cucumber.
Warm the pittas
Thinly slice the lamb lengthways into strips
Split open the pittas
Stuff them with the sliced doner meat, carrot ribbons some thinly sliced cucumber – and serve alongside the tzatziki.