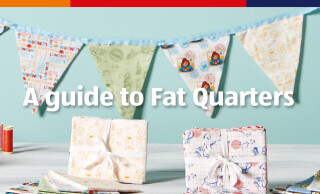 Aldi and The Big Community Sew
Aldi has worked with The Big Community Sew, an initiative that is encouraging people to make their own face coverings for friends, family and neighbours at home, to offer a handy how-to guide.
Helping you to get started with your fat quarter project.
Whether you are returning to the wonderful world of sewing, or just getting started, it is always good to get to grips with the basics so you can select the best fabrics, at the best price for your project.
However, like with any project, there can be a lot of research before you can get started, reading around takes time. Luckily, we have pieced together 'The Everyday Amazing Guide to Fat Quarters' and we hope you find this introduction useful.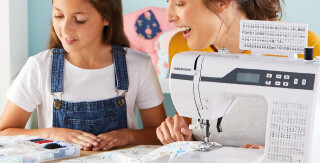 What is a fat quarter?
Fat quarters are a smaller section of a larger piece of fabric; as a rule, fat quarters are created by cutting half a meter of full fabric width and then cutting this in half again, but vertically. The result is a lovely sizeable piece of fabric from which you can work your magic.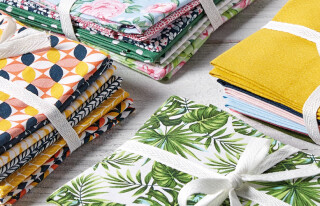 How big is a fat quarter?
In terms of size, fat quarters are around 50cm x 55cm. At ALDI, our fat quarters are 18" x 22" (45 x 56cm). However, please be mindful that the sizes of fat quarters are not set in stone; as long as fat quarters follow the method of 'cutting above', then varying sizes can be used to make fat quarters - great news for those wanting to explore different textures and patterns to really make a project pop!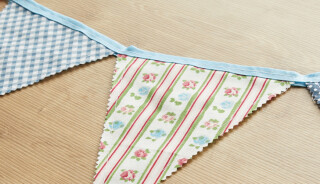 How much do fat quarters cost?
This will vary depending on your project and where you purchase your fabric from. Naturally, larger projects are likely to cost more than smaller ones and with so many shops (both off and online) out there, it can be difficult to be specific with costs.
However, ALDI are amazing on quality and amazing on price, so you know you are getting good bang for your buck!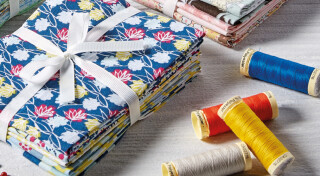 What is a fat quarter bundle?
Fat quarter bundles can be a good way of buying complimentary patterns for your project/s and can often be found in themes such as Summer, Christmas, Forest or Terracotta.
These are a great option if you would like many of the same fabric - i.e. 72 fat quarters of one design/colour, or if you would like an array of options, i.e. polka dots, gingham, floral or block colours. Christmas bundles are usually popular with festive patterns and colours available in packs of 4 through to larger packs of 50+.
Fabrics

Another minefield is, 'which fabric?' As a rule, you can select any fabric, but as long as it's the same for the whole project, then you're fine to select any fabric that you wish to sew with.

ColoursEvery project is unique, so the world's your oyster when creating patchwork projects. Whether you like single tones or multicoloured, you can select fat quarters that suit you.
Inspiration
Whether you are looking for a small project or something much bigger, we have a few popular ideas for you try out!
Patterns to consider
The fun thing about fat quarters is that you can do so much with them. From tote bags and storage bags to tea cosies and bunting, there are lots of projects to try your hand at. Here's a few ideas we've come up with, but you might have your own too. Give them all a try.
• Bunting