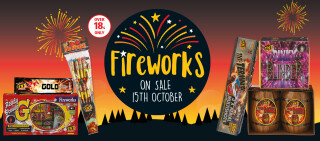 How to make this Bonfire Night amazing!
Just go to Aldi, of course! We've got everything you need to make this Bonfire Night go with a real bang. Simply pop into your local store and get a great deal on a whole range of jaw-dropping fireworks, from Sparklers and Rockets, to Roman Candles and Mines. Plus, we've got plenty of tasty Bonfire recipe ideas online. Just remember to follow the fireworks code.
Host the perfect Bonfire bash
There's nothing like celebrating Bonfire Night with friends – and if the party's at yours, we've all sorts of goodies to help make sure everyone has a brilliant time!
Fireworks in action
Be sure to impress your guests by checking out these videos below to see our Star Striker Rocket and Raging Raptor fireworks in action.
Enjoy the fireworks fun… safely
Everybody loves fireworks, but the key to enjoying your Bonfire Night is to use them safely. That's why our Firework Guide tells you exactly what to expect, while our Fireworks Code tells you how to stay safe so everyone has a great time.
Winter warming recipes for Bonfire Night
Just what you need on a cold autumn night – a warming bowl of goodness and a few deliciously sweet treats. For a real crowd-pleaser, try this Pumpkin Curry. And whip up a little Bonfire Toffee and cups of Double Hot Choc on the side. Simply delicious, any time.