Vodka, Cream Liquer and Espresso Cocktail, simple yet delicious!
Flat White Martini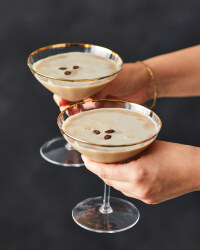 Recipe Information
Ingredients
20ml Vodka
40ml Irish Cream Liqueur or Caramel & Hazelnut Cream Liqueur
15ml Sugar Syrup (or 1 tsp Honey)
1 small Espresso
Ice
Method
Pour all the ingredients into a shaker.
Add ice and shake thoroughly.
Strain into a martini glass.
Garnish with coffee beans