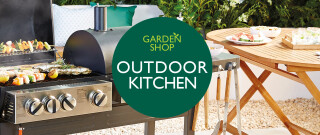 Outdoor BBQ Sets
Enjoy a summer of outdoor feasting with friends and family with some of the season's best barbecues. Splash out on this amazing Dual Fuel Barbecue or impress your guests with our tasty Barbecue Pizza Oven.
Kamado BBQ Grill
Based on an ancient Japanese design, the unique double-walled insulated shape gives meat, fish and vegetables a deliciously rich, smoky flavour and superb taste. It's amazingly versatile, and once you've tried Kamado cooking you'll never go back!
SOLD OUT ONLINE
Smoker BBQ
A steel-bodied smoker BBQ that can handle your full family meals. Perfect for fans of that smoker-style flavour, it comes with 2 grills, a side smoke chamber, adjustable air vents and easy storage shelves. Looks great in any garden.
SOLD OUT ONLINE
Barbecue Pizza Oven
If you're thinking of throwing an outdoor party this summer then this light, portable Barbecue Pizza Oven will offer guests the perfect feast. Cooks up to 12"pizzas in 10 minutes on charcoal or gas barbecues.
SOLD OUT ONLINE
Oil Drum Barbecue
Large portable, charcoal-fired barbecue with an air vent, grills for cooking and warming, wheels, handle, and a thermostat in in the lid. Perfect for grilling or baking outdoors.
SOLD OUT ONLINE
Dual Fuel Barbecue
Convenience and flavour. Host a family feast this summer with our Dual Fuel Barbecue. It's easily portable with a host of useful cooking features – a side burner and warming racks, folding side shelves and plenty of grill space.
SOLD OUT ONLINE
If you're looking for something different, we'll be adding new barbecues to our range all summer long. Keep checking back so you don't miss out.
Never take a portable barbecue – or lit charcoal – into an enclosed space like a tent or caravan due to the risk of Carbon Monoxide poisoning.
Carbon Monoxide (CO) is a colourless, odourless, tasteless, poisonous gas produced by incomplete burning of carbon-based fuels, including gas, oil, wood and coal. Carbon-based fuels are safe to use. It is only when the fuel does not burn properly that excess CO is produced, which is poisonous. Watch out for these symptoms: Mild Headache, Dizziness, Nausea, Vomiting, Fatigue or Drowsiness.
Shop all your garden needs