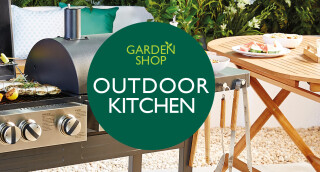 Our Garden Shop has closed for 2018
But make sure to come back next year when we'll have many more amazing products available to buy online. In the meantime, check out the Outdoor Kitchen products we currently have available below.

Electric Grill

Perfect for indoor or outdoor cooking, our great value electric grill gives you all the flexibility you need. It has a non-stick coating, hand side trays plus a tray to catch any excess fat.
Kamado Outdoor Oven
Ready to cook in just 15 mins, this insulated ceramic cooker resembles a giant egg and gives your food a rich, smoky flavour. The Kamado Outdoor Oven comes complete with a rain cover and cleaning tools, so you'll be ready to barbecue whatever the weather.
Smoker Barbecue
If you love the taste of barbecue food, you'll love this versatile Smoker Barbecue with 2 main cooking grills and a side smoker-style chamber to enhance all those deliciously smoky flavours in everything you cook.
Dual Fuel Barbecue
Our dual fuel barbecue lets you grill just how you like. Built in sturdy, powder-coated steel, it is easily portable with a host of useful cooking features such as a side burner and warming racks, folding side shelves and plenty of grill space.
Never take a portable barbecue – or lit charcoal – into an enclosed space like a tent or caravan due to the risk of Carbon Monoxide poisoning.
Carbon Monoxide (CO) is a colourless, odourless, tasteless, poisonous gas produced by incomplete burning of carbon-based fuels, including gas, oil, wood and coal. Carbon-based fuels are safe to use. It is only when the fuel does not burn properly that excess CO is produced, which is poisonous. Watch out for these symptoms: Mild Headache, Dizziness, Nausea, Vomiting, Fatigue or Drowsiness.