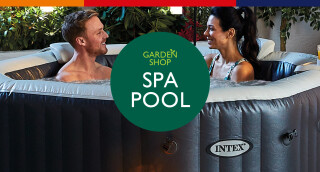 Spa Pool
Indulge in the ultimate relaxation in the comfort of your home with our amazing inflatable hot tub! Imagine coming home from a long day and being able to unwind in your very own spa pool, sinking into the warm water, letting the bubbles comfort you as you let the stresses of the day float away. Perfect for indoor or outdoor use, this spa pool is a real luxurious treat! Not to mention, it has room for 4!
With comfy head rests, an insulated ground mat and 120 massaging warm air jets, this inflatable hot tub really is an amazing home spa. The upkeep is simple, with filter cartridges to keep the water clean and a lockable cover to keep the water warm and prevent debris from getting into the spa when it is not in use.
What are you waiting for? Treat yourself to this amazing affordable inflatable hot tub today!
Luxurious Spa Pool
Spoil yourself with a luxurious spa pool in your own garden. Packed with features, including 120 air jets, water conditioning and automatic heating, it holds up to 4 adults, all of whom can share in that unrivalled feeling of wellness and relaxation
Enjoy high-end features at amazing Aldi value
Although a fraction of the price of many hot tubs, our Spa Pool has all the high-spec features and accessories you need to enjoy perfect relaxation.
2200w heater

For rapid, reliable heating – just set the temperature to suit you
Filter pump

Integrated filter pump feeds the 120 warm air jets to soothe and relax
Lockable insulation cover

Keeps your water protected and warm when you're not using the Spa
Capacity approx. 795L

Big enough to comfortably sit 4 adults, yet packs away in its own carry bag over winter
Get the best for your spa pool
To enjoy your Spa Pool experience to the full, you need to make sure the water remains clean and hygienic. Our Chemical Kit and Replacement Filters will make sure your pool is always ready to be used. And you can enhance your experience even further with our great value Drinks Holder and multi-coloured LED Pool Lighting accessories.
ONLINE 29 MAR | IN STORE 2 APR

ONLINE 29 MAR | IN STORE 2 APR

ONLINE 29 MAR | IN STORE 2 APR

ONLINE 29 MAR | IN STORE 2 APR
Create your own garden sanctuary
What better way to get away from the hustle and bustle of daily life than to create a sanctuary in your own garden? Whether it's making more of your patio with new decking and outdoor heating, or enjoying the luxury of a gazebo where you can relax with friends, we have just what you need to help you escape.
ONLINE 29 MAR | IN STORE 2 APR

ONLINE 29 MAR | IN STORE 2 APR

ONLINE 29 MAR | IN STORE 2 APR

ONLINE 29 MAR | IN STORE 2 APR
ONLINE 29 MAR | IN STORE 2 APR

ONLINE 29 MAR | IN STORE 2 APR

ONLINE 29 MAR | IN STORE 2 APR

ONLINE 29 MAR | IN STORE 2 APR
Shop all your garden needs