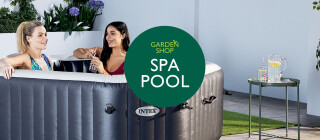 Inflatable Spa Pool
Take home this amazing inflatable hot tub and let the bubbles wash your cares away. With 120 air jets and a 2200W heater, you'll be enjoying your own inflatable spa for less than the price of a pamper weekend. A summer's evening spent in your spa pool is just what you deserve after a busy day at work: sit back, relax and unwind. When it's eventually time to get out the lockable cover keeps your water protected, clean and insulated. It really is the perfect home spa set-up.
Luxurious Spa Pool
Indoors or out, enjoy the luxury of your own hot tub with Fiber-Tech technology. With room for 4, it's stable and solid with 120 massaging warm air jets for ultimate relaxation. Includes head rests, filter cartridges and insulated ground mat too.
SOLD OUT ONLINE
Enjoy high-end features at amazing Aldi value
Although a fraction of the price of many hot tubs, our Spa Pool has all the high-spec features and accessories you need to enjoy perfect relaxation.
2200w heater

For rapid, reliable heating – just set the temperature to suit you
Filter pump

Integrated filter pump feeds the 120 warm air jets to soothe and relax
Lockable insulation cover

Keeps your water protected and warm when you're not using the Spa
Capacity approx. 795L

Big enough to comfortably sit 4 adults, yet packs away in its own carry bag over winter