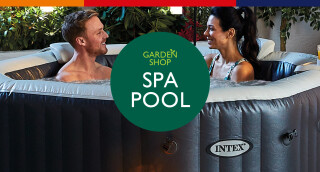 Sorry, our Garden Shop is closed until Spring 2021.
If you've landed on this page you're probably dreaming about sipping a cold drink in a luxurious spa pool and who can blame you? Despite our Luxury Spa Pool being able to handle all seasons, we only sell this inflatable hot tub during our Garden Shop season and must apologise for any disappointment caused. However, please rest assured that this bubbly tub of joy will be back in spring 2021! Please come back then and be the first in line for your very own spa pool experience!
Luxurious Spa Pool
Spoil yourself with a luxurious spa pool in your own garden. Packed with features, including 120 air jets, water conditioning and automatic heating, it holds up to 4 adults, all of whom can share in that unrivalled feeling of wellness and well-being.
Enjoy high-end features at amazing Aldi value
Although a fraction of the price of many hot tubs, our Spa Pool has all the high-spec features and accessories you need to enjoy perfect relaxation.
2200w heater

For rapid, reliable heating – just set the temperature to suit you
Filter pump

Integrated filter pump feeds the 120 warm air jets to soothe and relax
Lockable insulation cover

Keeps your water protected and warm when you're not using the Spa
Capacity approx. 795L

Big enough to comfortably sit 4 adults, yet packs away in its own carry bag over winter