Classic dessert trifle with homemade ginger sponge, berries, jam, custard and amaretto.
Gingerbread and Berry Trifle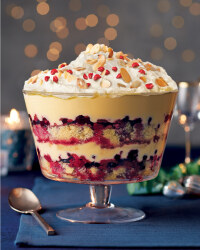 Recipe Information
Ingredients
130g Caster Sugar
130g Self Raising Flour
130g Perfect for Baking Spread
2 Medium Free Range Eggs
8g Ground Ginger
60g Raspberry Jam
500g Ready to Serve Custard
500g Four Seasons Frozen Mixed Fruits, thawed
70ml Amaretto
300ml Double Cream
15g Flaked Almonds
Pomegranate Seeds (optional)
Method
Pre-heat the oven to 180°C/Gas Mark 4.
Put the flour, caster sugar, spread and ginger into a food processor. Break in the eggs and blitz for a few minutes until you have a smooth batter.
Pour into a lined baking dish and bake for 20 minutes until risen and golden.
Allow to cool (the sponge can be made ahead of time and kept in an airtight tin until ready to make the trifle).
Slice the cake into strips, sandwich them together with some jam and cut into chunks. Put half in the bottom of a glass bowl.
Drizzle over half the Amaretto and top with half the fruits.
Drizzle half the custard over the fruit, then top this with the remaining sponge.
Drizzle the remaining Amaretto over and top with the remaining fruits. Drizzle the custard over the top.
Lightly whip the cream and swirl this over the custard.
Toast the almond flakes – allow to cool and scatter over the top.
For an added festive touch, add pomegranate seeds over the top.