Classic Italian-style pizza - crispy Parma ham with soft goat's cheese and fresh basil leaves.
Goat's Cheese & Parma Ham Pizza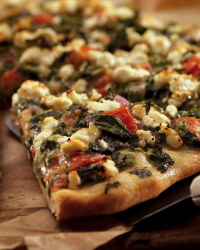 Recipe Information
Ingredients
Everyday Essentials Cheese and Tomato Pizza (265g)
50g Herbed Goats' Cheese
3 slices Specially Selected Parma Ham
1 Vine Tomato
2 tsp Specially Selected Pesto Rosso
8 Cucina Pitted Black Olives
15g Parmigiano Reggiano Cheese
Fresh Basil Leaves
Method
Pre heat the oven to 200°C/400°F/Gas Mark 6.
Take the pizza out of its packaging and put on a baking or pizza tray.
Thinly slice the tomato and spread the slices over the pizza.
Crumble the goat's cheese over the top then tear the Parma ham and place on the pizza.
Drizzle over the pesto and scatter over the olives.
Cook for about 8-10 mins until crisp and golden.
Finely grate the Parmigiano Reggiano cheese.
Serve the pizza sprinkled with the Parmigiano Reggiano cheese and scatter over some fresh basil leaves.