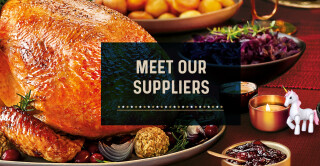 The suppliers who make Christmas amazing
Your perfect Christmas is only made possible thanks to the team of suppliers working behind the scenes all year. It's their hard work and passion that produces all the fresh, award-winning products you love. Let's take a minute to give them the spotlight they deserve.
Fresh British turkeys
Our Exquisite Chesham Bronze turkeys are hand-finished and dry aged for tender meat, with wonderful texture that's full of flavour. Sourced from idyllic East Anglian farms, each bird spends their life roaming free over stubble fields and pastures.
Farm to fork
Aldi has always been committed to championing great British quality. Discover the stories of our amazing suppliers and how they will be providing Aldi customers with quality produce all year round.