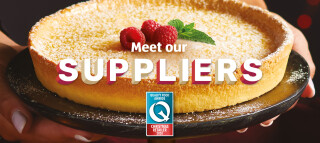 Meet our amazing Christmas suppliers
From farming and fishing to growing and baking, our Great British suppliers have helped us produce exceptional food. The kind of quality you want to serve around the Christmas table. Thanks to them we've won Quality Food's Christmas Retailer of the Year 2020. Here are their stories.
Let's talk turkey
"We've been rearing birds for 30 years, taking pride in how we feed them and grow them to maturity. We have a passion in what we're doing to ensure they are full of flavour and beautifully moist, using traditional methods to improve texture and flavour."
Our famous carrots
Discover how our amazing carrots are brought to life, from their fresh British roots out there on the farm, to an up-close look at the incredible journey of how Kevin, Katie and the family made it to the big screen.
What a catch!
Discover what it takes to become one of the UK's top fish producers. Roach Bros is a family business, based in Kingston-upon-Hull, spanning an incredible 6 generations.
Because amazing is what they do
Aldi has a fresh meat range to be proud of. It is 100% Red Tractor assured all-year round. And whether they are rearing pigs, cows or sheep, we trust our farmers, producers and suppliers to produce the quality of meat you need to make this Christmas extra special.
From farm to fork - Quality British pork
Yorkshire-based  Karro Food Group is a leading producer of pork products supplying over 500 tonnes of fresh pork, bacon, gammon and sliced cooked meats to Aldi every week. They have secured an award-winning reputation for high quality pork products. 
Passionate about produce
Aldi has always been committed to championing great British quality and that is reflected in our amazing network of farmers and suppliers. From potatoes, to eggs and milk, they provide our stores with the finest, award-winning produce every day. Why not take a moment to meet the fantastic people who provide it?