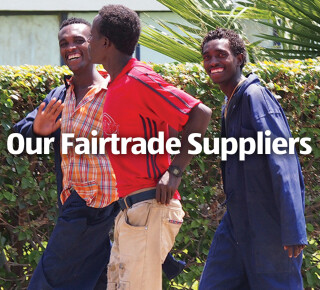 Meet Our Fairtrade Suppliers
In 2011, Aldi began working with Herburg Roses farm in Ethiopia as part of a joint venture with our key supplier for flowers. Herburg Roses PLC began with 18 hectares of land and has now grown to over 40 hectares with 1200 workers employed. 64% of those workers are women.
Herburg attained Fairtrade certification in 2014. With support through training and guidance from Fairtrade, they achieve the highest level of social and environmental production standards. They produce almost 30 varieties of roses year-round to a consistently high standard.
In addition to training, farms receive a 'Fairtrade Premium' which is a communal fund to help with social, economic and environmental issues. A Premium committee made up of elected workers makes decisions on how the premium is spent and plans the rollout of initiatives that best suit the needs of the workers.
Fairtrade in Ethiopia - Working together
Aldi is a very important part of Herberg's rose production. 10% of the price paid to producers goes directly to benefit the workers and their families, through the Fairtrade Premium. The best part is that it's the workers themselves who decide how this money will be spent.
How Fairtrade is improving lives of workers in our supply chain
Herburg Roses have implemented two key Fairtrade premium projects:
1. A medical scheme contributing towards treatment for employees suffering from non-work related sickness. The aim of the scheme is to enable workers to get back to health and back to work.
2. A subsidised food commodities project that ensures employees have access to staple food ingredients such as maize, flour, pepper, shiro, lentil and rice. Prices and availability can vary greatly from year to year and the scheme ensures that they can access these ingredients at an affordable price. The beneficiaries of this project are all employees of Herburg Roses and their family members.
Plans for the future - Creating fair conditions for our flower growers
We are supporting women's empowerment for flower growers in Ethiopia, where Aldi is the only British retailer sourcing Fairtrade flowers. We think that it is essential to support the countries around the world where our products are produced in order to address equality challenges and create fair and supportive working environments.
Four years of investment
We will invest £200,000 in the Fairtrade Flowers Gender Empowerment Project over the next four years. The project supports education programmes aimed at enabling women to become leaders at work and in their communities through mentorship, upskilling and information sharing, and behaviour change initiatives.