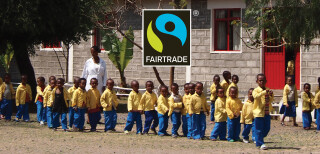 Meet Our Fairtrade Suppliers
Roses are a very special flower. With each colour representing a different meaning, from peace and love to friendship and thanks. We think it's only right that such a special bloom be given the right start. Thanks to one of our Fairtrade-certified suppliers, Herburg Roses, we're now able to expand our offer of Fairtrade roses across all our stores.
In 2006, the Dutch-owned Herburg Roses recognised the opportunity to expand their business by relocating to Ethiopia. Set against the increasing financial and environmental cost of growing in Europe the plan looked very attractive. Floriculture was in the very early stages of development in Ethiopia. The conditions for growing roses were perfect, with year-round warmth, great light and a large and enthusiastic workforce.
Initially the business took on 18 hectares of farm land. Now the Herburg Farm has expanded to 40 hectares with more planned for the future. It's a tremendous success story and has made a real difference to the community in Ethiopia with floriculture now one of the country's most successful export-led industries.
Aldi has become a very important part of Herburg's rose production. Aldi's move to sourcing Fairtrade Roses for their £3.00 dozen bunch of roses means that 10% of the price paid to producers goes directly to benefit the workers and their families, through the Fairtrade Premium. The best part is that it's the workers themselves who decide how this money will be spent.
Benefits for Herburg farm workers
Herburg has worked very hard to become Fairtrade certified. In the next few months we'll be following the story of the new Joint Body Group. This group comprises of workers on the Herburg Farm who will meet regularly to discuss what community projects they will initiate using Fairtrade Premium. Over time we will see the plans emerge into real projects benefitting the workers and their families and Herburg Roses.