This fun Easter breakfast idea is as healthy as it is tasty!
Hardboiled Bunny Eggs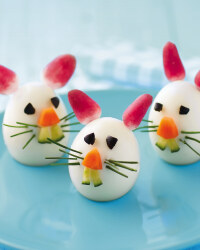 Recipe Information
Ingredients
Large Eggs
Carrots, peeled
A few Peas
Black Olives, halved and pitted
Fresh Chives
A little Mayonnaise
Method
Boil the eggs for 10 minutes then immediately plunge into cold, running water.
Peel the eggs when completely cool, then slice a small piece off the bottom to allow it to sit upright.
To make the ears, cut the carrots into 2-3 cm pieces and then slice lengthways thinly and cut to a rounded point.
To attach, cut slits into the egg tops and slot the carrot slices in.
Use a skewer or cocktail stick to form small holes in the more pointed end of the eggs and slot in lengths of chive to form whiskers.
Cut 2 small crosses into the eggs where the eyes will be and pop in 2 peas.
Place a small dot of mayonnaise on the inside of the olive halves and attach to each egg for a nose.